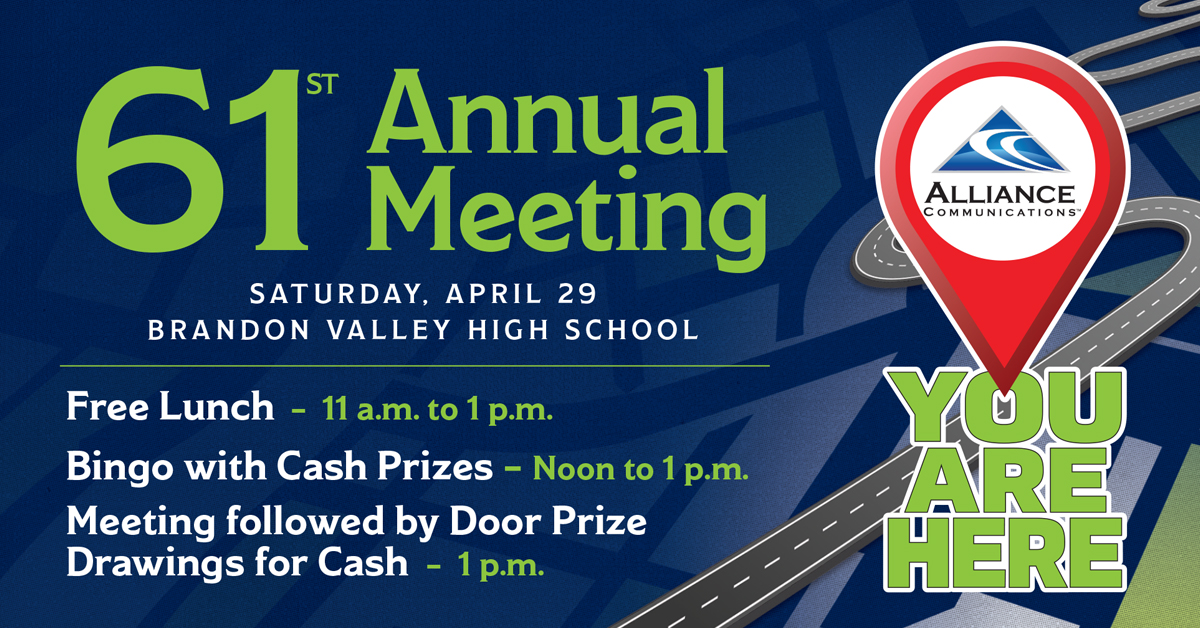 Cooperative members are invited to join us Saturday, April 29, at the Brandon Valley High School for Alliance Communications 61st Annual Meeting.*
Free Lunch
11 a.m. to 1 p.m.
Enjoy a free lunch of pork sandwiches, baked beans, coleslaw, ice cream and beverages.
Bingo with cash prizes
Noon to 1 p.m.
When you're done eating, join us in the Performing Arts Center for some bingo and prizes. Winners will receive a chance to win CASH PRIZES.
Meeting followed by door prize drawings for cash
1 p.m.
Issues impacting your cooperative will be discussed, and four directors will be elected to the board. You will then have another chance to win CASH PRIZES!
Capital Credits
• If your amount is $100 OR LESS, you will receive a credit on the April 1 bill.
• If your amount is MORE THAN $100, you will receive a check in the mail during the week of April 24. This check is yours to cash and spend as you wish.
If you have questions, dial 611 from any phone with Alliance service or call (605) 582-6311 from your cell phone.
* Alliance's cooperative territory includes the following communities: Alcester, Alvord, Baltic, Brandon, Carthage, Crooks, Garretson, Hills, Howard, Hudson, Inwood, Larchwood, Lester, Oldham, Ramona, Steen and Valley Springs.